360/Self Review
A 360/Self review tool for helping schools and their staff to self-evaluate against the Teachers' Standards (England), Professional Standards for Teaching and Leadership (Wales), staff wellbeing and more.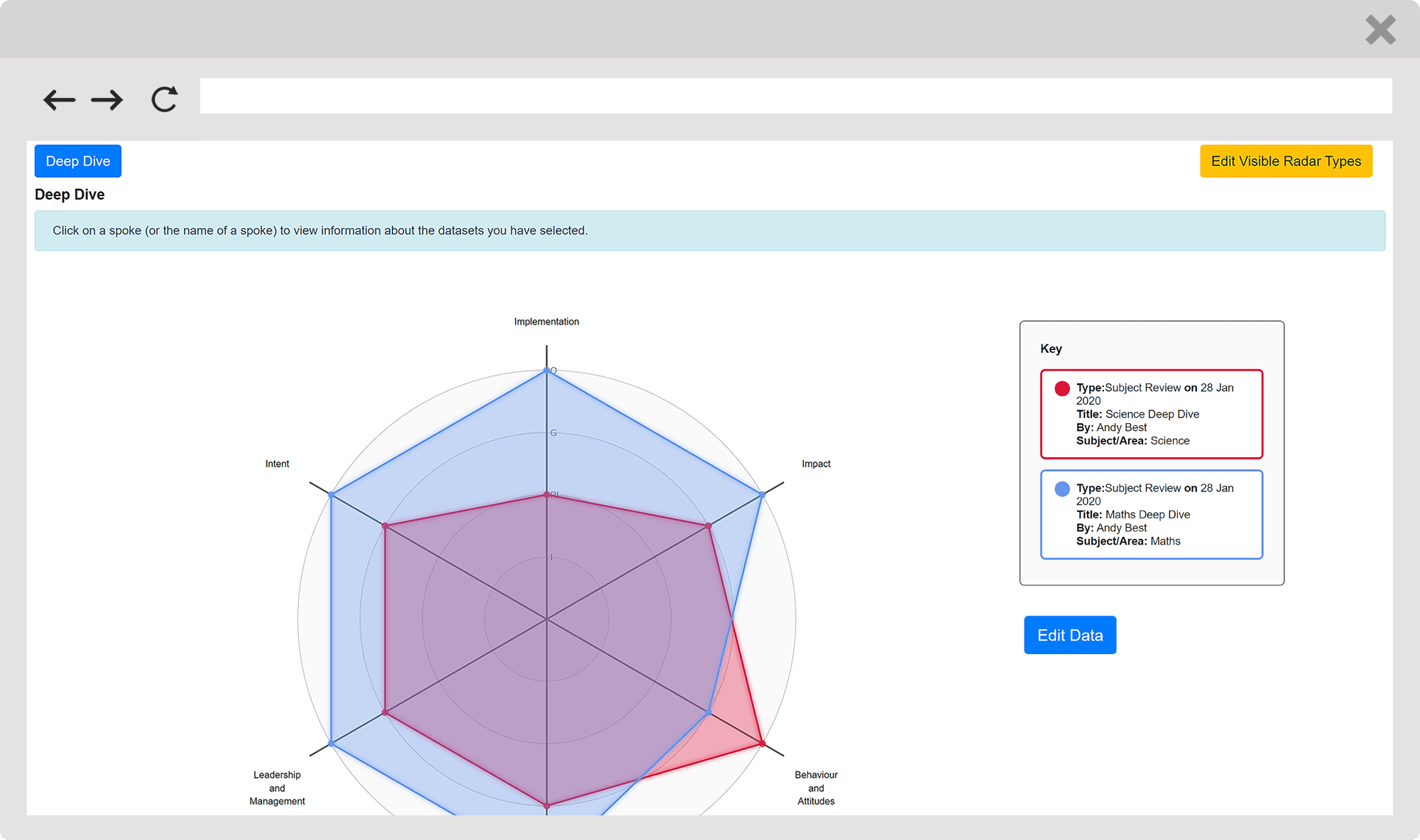 The Lessons Learned 360/Self Review module has been developed to support teachers and leaders self evaluate against various teacher standards recognised by schools across the country.
The module recognises the importance of self-reflection and helps schools to make the most of this within their school improvement processes. Using radar charts (or spider web charts), the module can be used to complete self, peer and line manager reviews against many different elements of practice, such as the Teachers' Standards or the Professional Standards for Teaching and Leadership. It can also be used at subject level to conduct department reviews, or "deep dives", providing SLT with an assessment of the school curriculum.
Radar charts allow for powerful analysis through layering. For example, individuals can layer their own self reviews to track the progress they've made against teacher standards throughout the year. School leaders can layer reviews completed by different departments or even create an average based on self reviews by individual staff and layer that against where they believe the school to be at as a whole.
The module allows evidence to be noted and development actions to be identified, recorded and eventually undertaken. It is the ideal tool for helping staff to take control of their own professional development and allows individuals to choose whether they share their reviews or keep them entirely private.
Answer questions such as…
Are staff making progress over time against their key areas for development?
Do staff opinions of their own practice align with those of their peers or line managers?
Based on an average of teachers' opinions of their own practice, what are the major areas of strength and areas for development in the school?
How does leadership compare across different departments in school?