A module for monitoring teaching and learning, with analysis to inform improvements and provide evidence for good governance.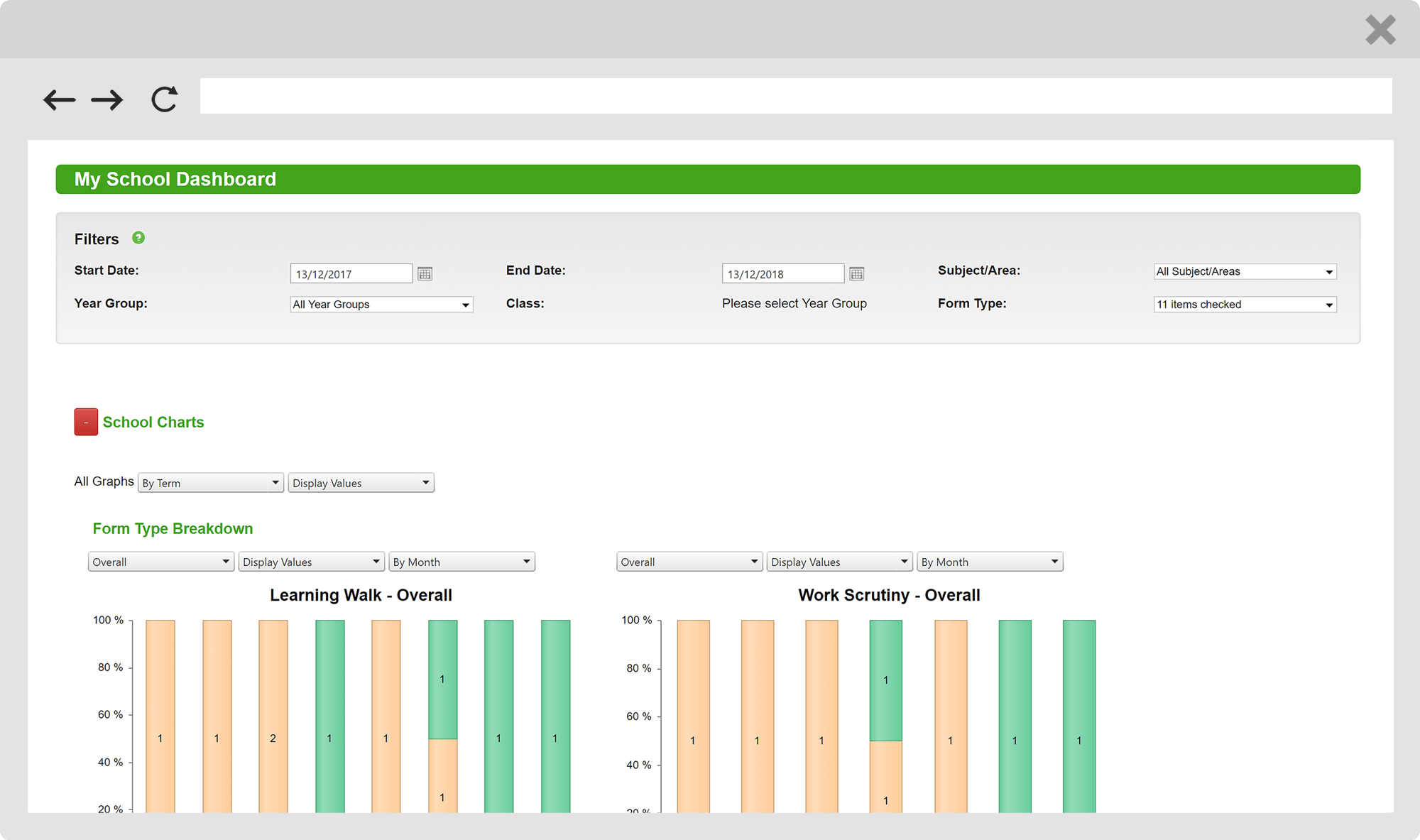 The Teaching and Learning Development Module provides the tools for senior leaders to analyse teaching and learning and to identify areas that need improvement at individual teacher, subject level or at school level.
Using Lessons Learned, senior leaders are able to easily demonstrate the quality of teaching and learning to governors, trustees and other parties such as advisers or inspectors. It also provides ideal evidence for your self-review processes.
The module is flexible and able to accommodate a variety of monitoring forms for teaching and learning, including lesson observations, learning walks, book scrutiny and much more. You can use our preloaded forms, which use the latest Ofsted framework as a basis, or alternatively use your own school frameworks and forms.
Forms can be customised extensively, with options to turn judgements on or off, create new judgement sets for specific forms and add areas for recording development points and strengths where applicable. How complex or simple the forms are is up to you.
Easy to use analysis screens provide a quick overview of the level of teaching and learning at individual, department and whole school level. Summaries of development points and strengths allow you to see if there is a particular area of strength or weakness within your school.
Teachers can have their own logins that allow them to view forms completed on them and middle leaders can be given access to forms and analysis for their subject/area or year group. Development point logs can be accessed at all levels, allowing individuals to see the feedback they've been given and record actions against them to show how they've responded.
Clear, well presented information.
Organised and structured data for decision making.
Accessible securely at any time and from anywhere.
Ability to upload attachments to forms (Word documents, PDFs, images and so on).
Ensures that feedback is fair with common frameworks for everyone to follow.
Works on all internet connected devices including tablets.
Free system updates and additions throughout your subscription.
Opportunity to get involved with development – we love hearing your ideas!
Outstanding customer support with free online training sessions when you need them.
"Lessons Learned proved very helpful. I had at my finger tips an overview of all the observations that had taken place in the school, I was able to provide data on different key stages and subjects as part of the school's evidence base. The inspectors commented that we had an accurate picture of ourselves as a school and Lessons Learned undoubtedly contributed to that picture."
"I was able to show where our strengths and weaknesses were as well as the percentage of teachers working at 'Good' or 'Outstanding'. For the sake of a few hundred pounds I was able to prevent the school being graded 'Requires Improvement' based on what an inspector had seen in two days."
New for 2018/19 – Feedback Forms
Our new feedback forms are not linked to any particular monitoring type (such as lesson observations or learning walks) and can be used to quickly send out positive, negative and neutral feedback to multiple staff, subjects, year groups and classes all at once. You can even assign feedback to a particular role (e.g. all teachers or SLT), so that everyone with that role is able to see the feedback shared with them.
Staff can act on their own feedback by adding evidence and marking it as complete once it's been acted on.
Our Ofsted-based framework is just one of many options when it comes to using the Teaching and Learning Development Module. See our example form setup page to see how our creative customers have tailored the module to best suit their own practice.