A complete solution for monitoring teaching and learning, tracking performance management and evaluating the impact of CPD
Trusted by over 400 schools, Lessons Learned aims to strike the perfect balance between creating a system that is feature-rich but easy to use. Comprised of 3 modules – Teaching and Learning Development, Staff Appraisal and Development and CPD – you can pick and choose what your school needs to build a system that's right for you.
New for 2016 – Group View
Get a clear view of teaching, learning and performance management within your MAT or cluster (regardless of group size or geographic location) with our new Group View.
Whether your schools follow similar processes or all have their own established methods for observation and appraisal, the new Lessons Learned Group View can help you get an overall picture of the quality of teaching and learning with minimal effort.
Record & Analyse Lesson Observations, Work Scrutiny, Learning Walks
+ Much, Much More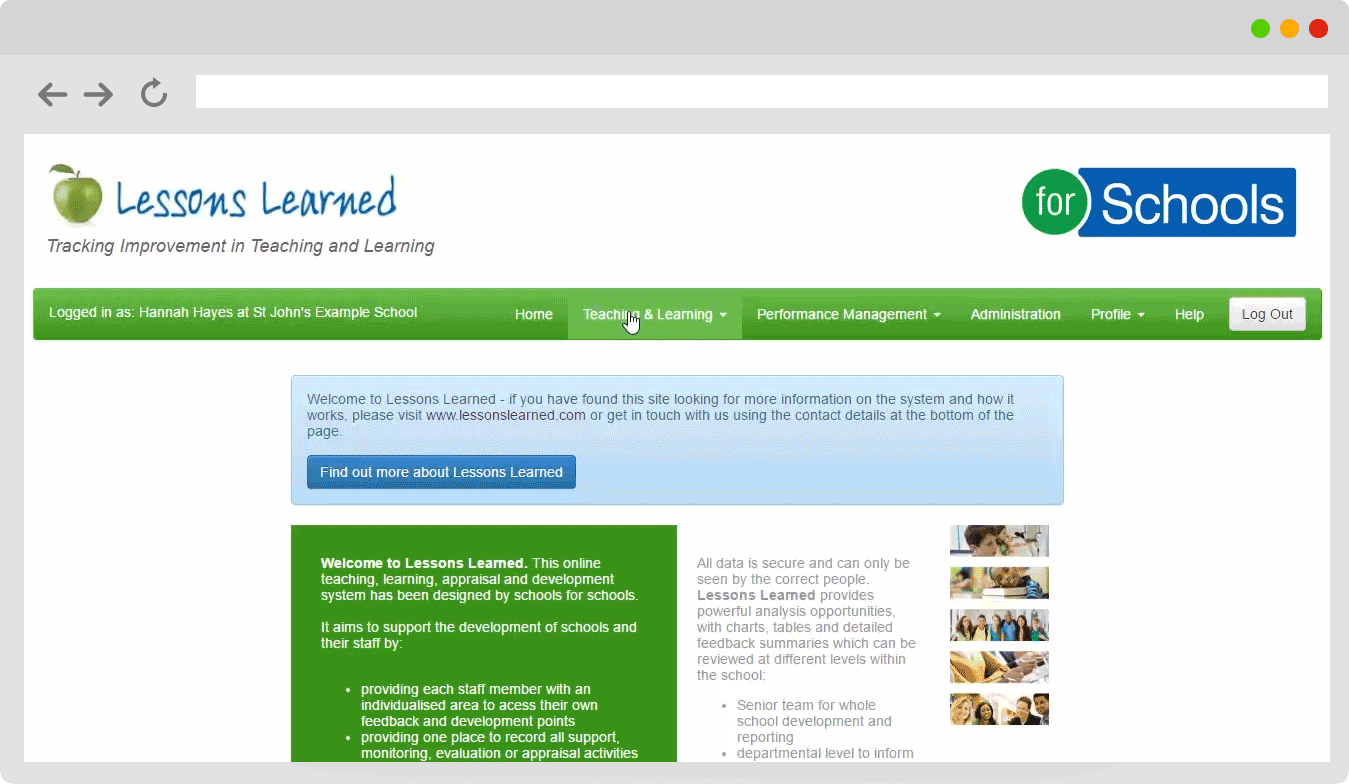 Use the Teaching and Learning Development Module to track progress and provide staff with a common framework for what outstanding and good looks like.
No Grades? No Problem.
With Lessons Learned you can turn off grading completely or for specific form types. You can also create your own grade sets and use these on forms too.
Track Appraisal Objectives for Everyone in Your School
The Staff Appraisal and Development Module allows you to manage the entire performance management process for every staff member in your school, including both teaching and non-teaching staff.
Staff are able to track their own progress towards achieving targets whilst graphs and tables can be consulted by senior leaders for up-to-date information on which objectives have been met and who needs to complete an action in order to keep the process moving.
Easily Assess the Impact of Courses and Training on CPD
With the Continued Professional Development Module training/qualifications/events attended or completed will feed into a central record, which can be reported on at individual, subject and school level to show the training provided as well as the effectiveness of that training.
Multi Device Compatible
Lessons Learned can be accessed from almost any device, so long as it has a web browser and is connected to the internet. Complete learning walks on your tablet or check your performance management objectives on your mobile.
We Offer Discounts to MATs and Clusters
Whether you belong to a group of 2, 20 or even 200 schools, you can get a discount on the system if you sign up together.
We also have a referral scheme in place so if your Lessons Learned prowess ends up tempting another school to buy, make sure they tell us your name so we can thank you.
To enquire about a discount or find out more about our referral scheme, click the button below to send us an email.
Praise for Lessons Learned
I will always be happy to recommend your product.  In comparison to many of the others out there, and we looked at a lot, Lessons Learned is simple and easy to use, with excellent support and it's cheap!  Keep doing what you're doing.
The system has been fantastic, it continues to develop and change and that is so important for us. We love it.
Lessons Learned has revolutionised so many areas at Hadley Learning Community. Our ability to monitor and therefore improve teaching and learning has led to outstanding practice. Within our 2013 Ofsted, the inspection team were blown away by how the school monitors, tracks and impacts upon teaching and learning. It was Lessons Learned that provided me with the platform to share our best practice.